Waterproof Phone holder, 180° rotatable!
 Like to take your phone with you in the shower? After a long day you can watch Netflix, listen to music, send emails and much more in the shower!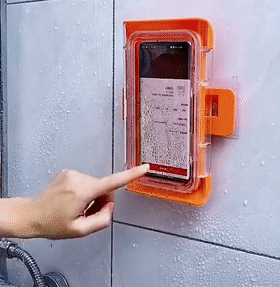 FEATURES:
 ✅ Freedom for your hands
The wall mounted shower stall holder is a good companion for you to enjoy life, whether you are taking a bath or cooking, it can free your hands and protect your device at the same time.
✅ Waterproof and anti-fog
Made of high quality ABS material, inline silicone seal, it can achieve 100% splash-proof. Enjoy movies, Tiktok, or others while bathing.
✅ 180° Rotatable Design
It supports switching between horizontal and vertical screens with 180° rotation and can be adjusted to a suitable angle to give you the best viewing angle.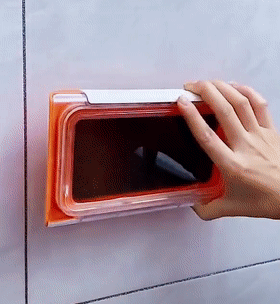 ✅ PET high-resolution touchscreen
The screen is made of a high-quality PET anti-fog film that is touch-sensitive and has 99% light transmission. Even if it fogs up in the shower, the image quality will not be affected and the phone can be operated precisely with wet hands.


✅ Use in multiple scenarios
Solid 360° full body protection, and the cover can be opened conveniently with one hand. It is a must for bathing in the bathroom, cooking in the kitchen, fitness, makeup, etc.
✅ Wide compatibility
Compatible with phone models under 6.8 inches, suitable for almost all phone and tablet models on the market.